Salon De Rose is a chain of  popular high quality salons in the Philippines and I'm so happy  to have experienced their service.
Since high school I never trusted any salons to color my hair. I only go to salons for hair treatment or haircut. I followed hair color trends such as ombre hair which is very popular at that time and very often, I do it by myself on myself facing a huge mirror #selfservice 😁
Lucky me, I won the giveaway of @iamsophiasanchez on Instagram including a 2,000 voucher from Salon De Rose. And guess what? Your right! I enjoyed the gift bestowed upon me 😆😆😆
Entering the sleek interior of Salon De Rose SM Seaside Cebu branch, there you'll be greeted and entertained by a lady/ladies in the reception area. Here I showed the 2000 voucher and told them what service I want to avail.
I availed the ESLABONDEXX™

 

hair treatment. ESLABONDEXX™

 is an innovative professional treatment that, added to chemical services, prevents their damages before they can even start, preserving and protecting the hair structure whilst the chemical treatment is acting: in fact, it strengthens the hair structure delivering elasticity, strength, enhanced condition and preventing it from breaking.
Since the lady ( I forgot the name ) that took care of me, observed that my black roots are already long, she suggested to get it done and I agreed, so she mixed the Nouvelle hair color with the hair treatment. 
Nouvelle  is a 

permanent hair color cream that is enriched with Megalift superlighteners to obtain extra light and bright blonde tones; for bright and natural shades protecting the structure of the hair.
Service wise, the very thing I enjoyed so much  was when during the rinsing process, just laying down and having someone massage my head pampered me soooo much to the point that I wished it would never end 😁😁😁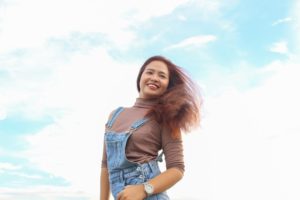 Overall, I'm so happy with the result and the experience. The salon has good interior, relaxing ambiance, and great quality service&products. 
RATINGS: ☆☆☆☆ out of ☆☆☆☆☆
You can avail the ESLABONDEXX hair treatment in any Salon De Rose branches nationwide! So what are you waiting for? Go now to any branch near you!
Connect with Salon De Rose:
You can also download their app for advance booking via google play for android and play store for iOS.
And that's it about my pampering experience at Salon De Rose. Hope you enjoyed reading and learned something 😃 'Till next time! Ciao!
– – – A D E L I N E – – –