I have always had thin eyebrows and I always envy girls that has bushy brows and can rock every single day without having to exert 5 or maybe 10 minutes doing their eyebrows every morning. Though I'm pretty "pro" on doing my own brows (5 mins) I would still want to have that 5-minute time just laying down my bed. But these problems can now be solved in a matter of 1:30 mins. All thanks to the advancement of technology in the beauty industry – Eyebrow Microblading (the answer to my prayer) is now available for us to experience.
What is Microblading?
Microblading is another technique of a manual handheld semi-permanent tattoo that uses tiny needles to help apply the pigments underneath the skin.
I became obsessed with the idea and searched microblading before and after results. With its tiny needles making up the blade, the result mimics the hair in the eyebrows producing a natural look.
Truth be told, the procedure is indeed pricey in all salons that cater the service. Luckily, a newly opened Korean beauty salon namely TFM Beauty short for Time For Myself Beauty Cebu Salon located at the Ground Floor of L'Anchora Bldg. Banilad Road, Cebu let me try and experience their service for free, not only that, they also gave me the liberty to choose what service I want to avail and upon seeing their list my eyes sparkled and magnetized towards – Eyebrow Microblading. And so we scheduled my visit in October 23,2018.
Below is the vicinity map of the salon for your reference
And this is what the salon looks like: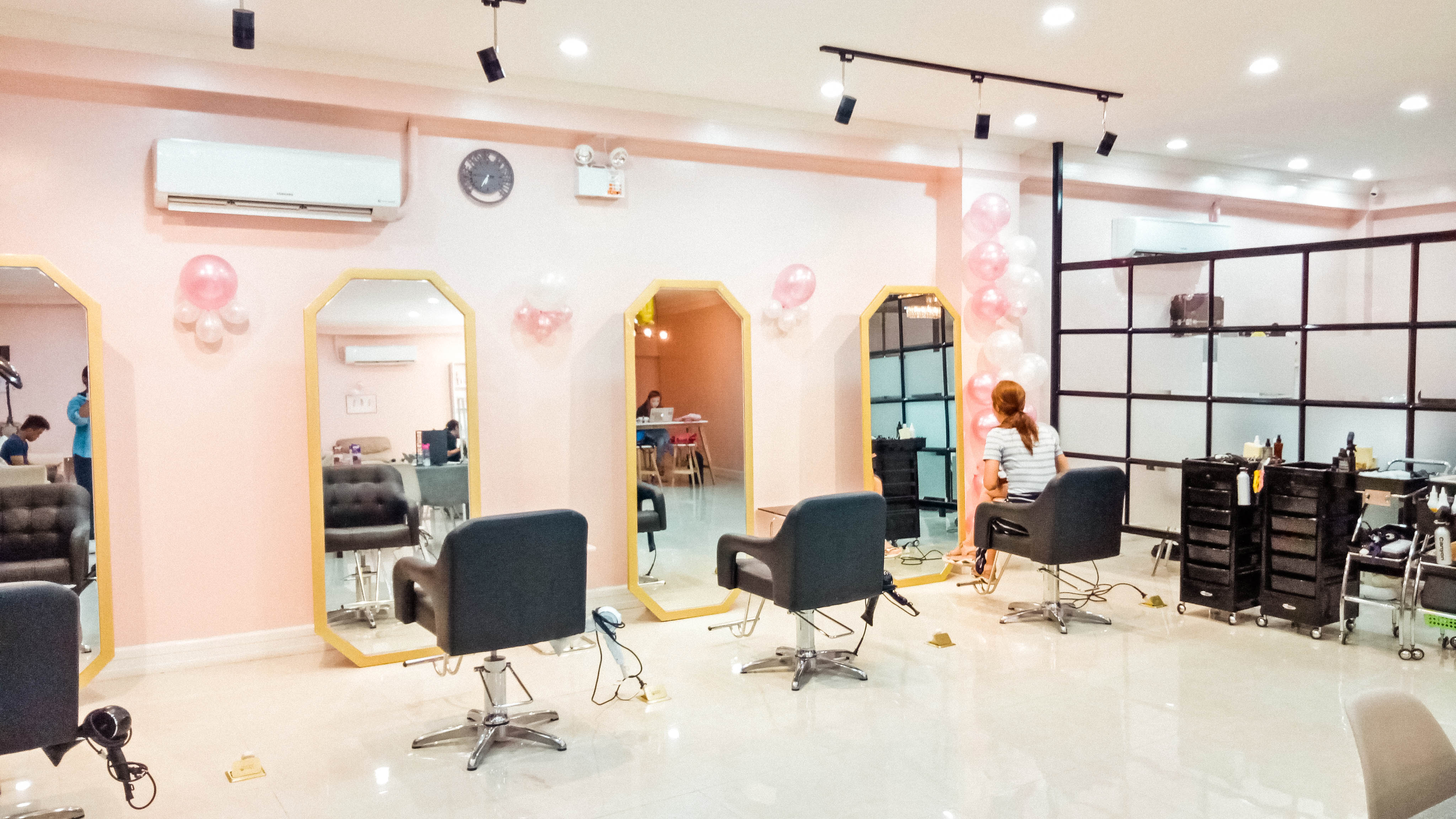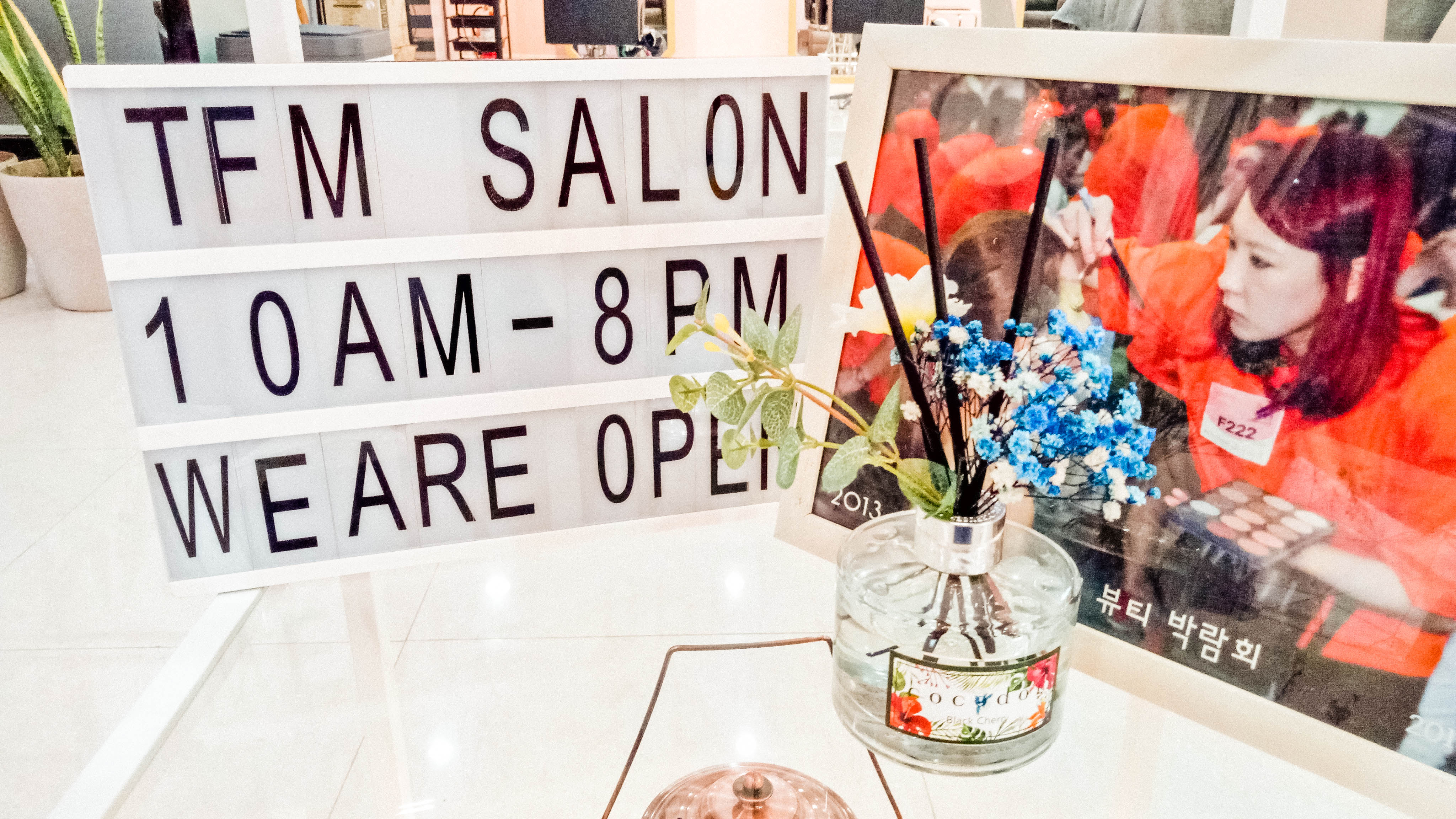 TFM Beauty Salon have different services to cater and give us the complete pamper sesh from head to toe. From hair revamp, to flawless makeup, to gorgeous nails, and many more.
Here are their list of services and their corresponding prices.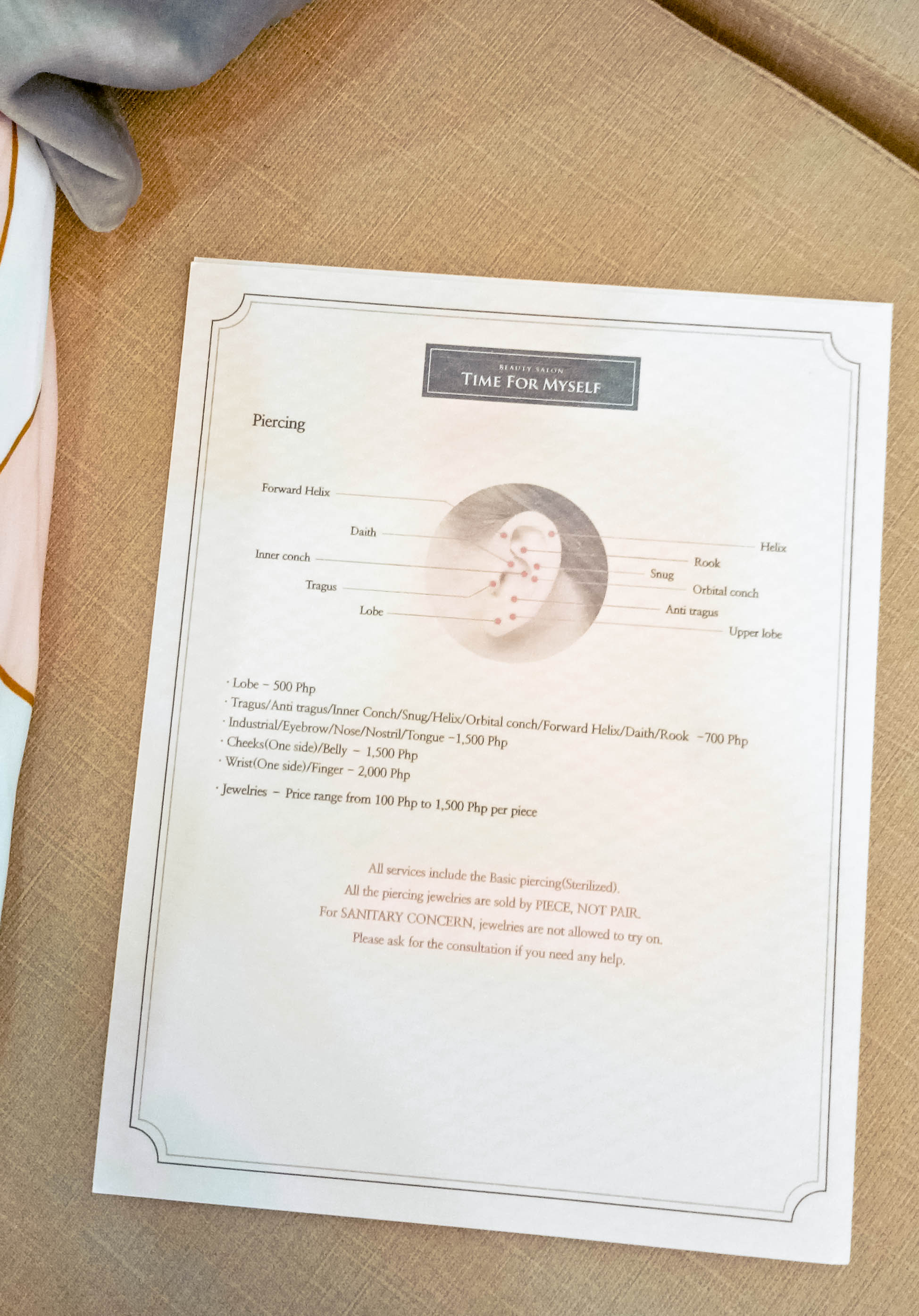 My Eyebrow Microblading Experience
Upon arriving the fancy salon, the owner – Miss Jinah, who also did my eyebrows, greeted me and so as the pleasing staffs and accommodated me right away.
The process:
First and foremost, since I have applied makeup prior to going to the salon, Miss Jinah removed the eyebrow makeup by a makeup remover and then go over to apply the numbing cream to be left on top my brows for 30 mins.
       While waiting, the staff gave me drinks and snacks to enjoy. So sweet.
After the 30 mins., I then get inside the operating room and did a quick consultation on what color and shape I want on me. I chose dark brown straight brows a.k.a Korean brows.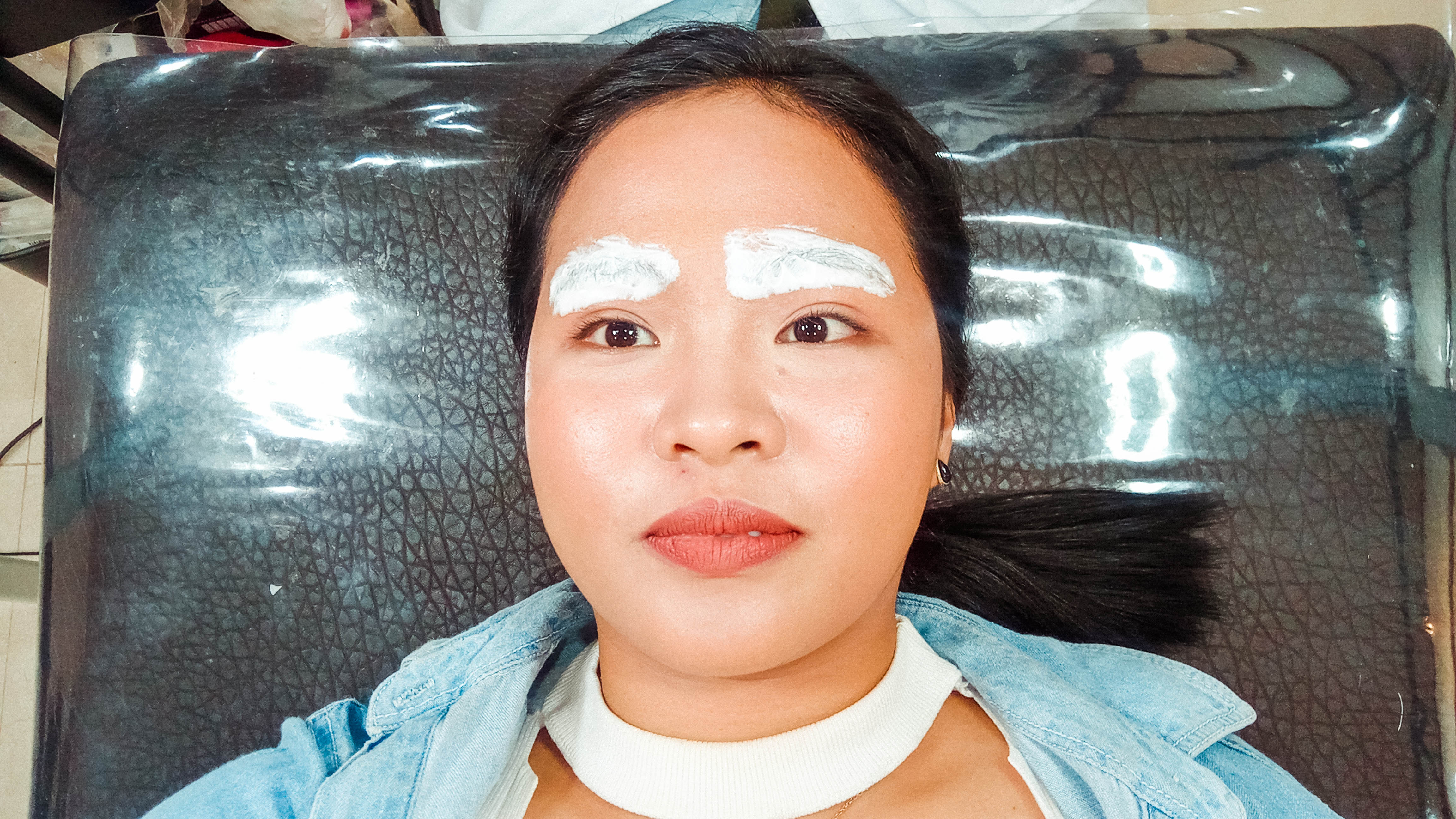 She then sticks the stencil on me and started drawing the shape of my "new" brows 😀
Now all is set, the procedure will now commence but I didn't took any videos since I have to be very still and my eyes should always be closed.

The process has 2 sets, 1st set is the drawing and laying down the hairstokes-like on both my brows. From then, she covers the newly drawn eyebrow with another numbing cream to prep for the 2nd set which is to go over the places that hasn't drawn yet or needs retouch.

Starting the first part I didn't felt any pain, I just hear my skin being scratched but I feel no to a little bit, like ant-bite pain since she started drawing at the tail ends of my brows. BUT when she started doing the inner corners of my brows? There I feel the pain. It is tolerable though but I can really feel the blade on my skin. I think I'm gonna cry and my hands are so cold 😀 The same feeling I felt for both sides. From a scale of 1-10 being 10 the highest, I would rate the pain of 4 or 5 🙂 But like Miss Jinah said, it is different on every people my pain might not be painful for you.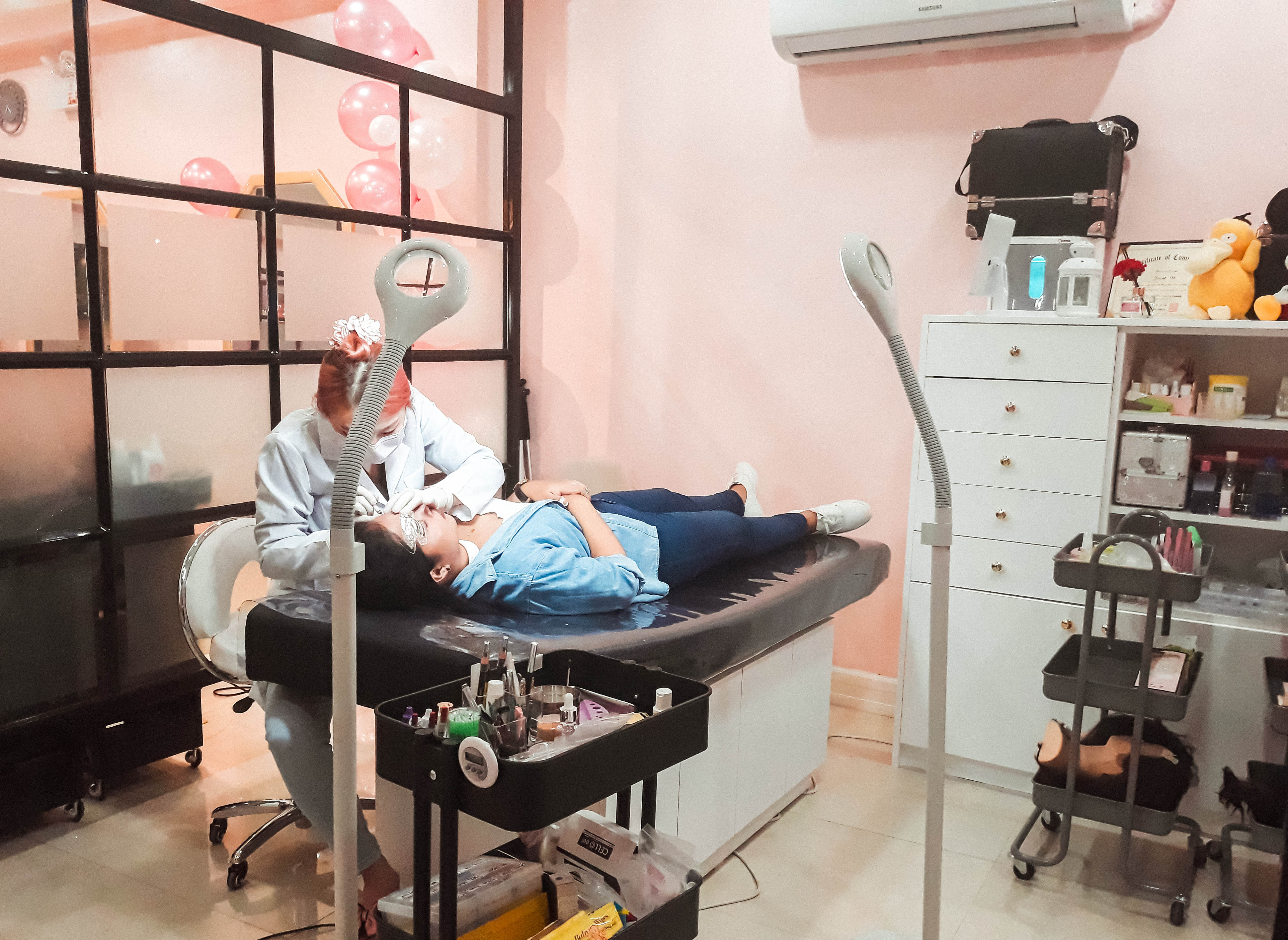 For the 2nd set after the 2nd numbing cream, I literally can't feel anything. Like my brows are legit numb already. Before I know it we are done and my brows are looking splendid but sore. 😀
When the effect of the numbing cream slowly fades away, I can feel that my brows are hot and burning. And it is natural, the skin have been wounded after all.
Also, all throughout the "tiis-ganda" journey, Miss Jinah has been so caring, always asking me if how I feel, if am I still okay, and so on. I am also honoured that Miss Jinah did the microblading herself to me so I know I'm in good hands. Thank you for having me! Super happy customer here 😀
Overall, the one and a half hour journey is a fun and new experience, I love the look, the feel, and the ambiance of the salon. So in love with their color choices with the baby pink walls, black panels, chairs, & tools, and golden metallic accents ugh! I can stay all day at the salon. It is by far the fanciest and most luxurious salon I have ever been to.
Is the pain worth it for the result? YES OF COURSE.
Will I ever come back? Absolutely YES. I am planning to avail their lobe piercing soon.
Let me know if you are planning to visit the salon or avail any service they have so we can come together and chill. #Pampertime
RESERVATION IS NEEDED for you to be accommodated right away. Contact TFM Beauty Salon on their social media accounts to set a schedule. Open hours is from 10 AM – 8 PM.
FB page: https://web.facebook.com/tfmbeautycebu/
Instagram: https://www.instagram.com/tfmbeautycebu/
Email: tfmbeautycebu@gmail.com
Say Hi to Miss Jinah for me 😀
Thank you for reading, see you on my next post.
XoXo,